Air Quality Laboratories, Inc.

LABORATORY SUPPORT SERVICES
AQL provides independent consulting services to laboratories and lab / data users in the areas of:
LABORATORY QUALITY MANAGEMENT

LABORATORY ACCREDITATION - ISO 17025 - A2LA / NELAC

LABORATORY ASSESSMENTS

LABORATORY SAFETY - COMPLIANCE WITH OSHA LAB STANDARD - 1910.1450

LABORATORY SELECTION AND EVALUATION

LABORATORY OPERATIONS MANAGEMENT

LAB DATA REVIEW AND VALIDATION

SAFETY AND HEALTH MANAGEMENT AND TRAINING

SCBA QUANTITATIVE FACEPIECE FIT TESTING
SERVICE
Because of the important decisions that are made by laboratory data users it is critical that the data is accurate and of known quality. For example, environmental data often is used in decision making that has potential safety and health considerations. Laboratories working to improve their quality system know operations that are "in control" will result in greater productivity and profitability. When a lab issue becomes a problem the quicker it can be resolved and corrected will directly reduce the impact and potential liability.
AQL has over 35 years experience working with laboratory accreditation / certification programs at both the state and national level. This includes expertise in accreditation requirements of the American Association for Laboratory Accreditation (A2LA). A2LA is a third party accreditation organization that evaluates the competence of laboratories based on compliance with the International Organization for Standardization (ISO) 17025. The accreditation involves an on-site assessment every two years with an annual review and renewal process. A2LA assesses the implementation and effectiveness of the quality systems used by the laboratory and issues a certificate of accreditation if the laboratory meets all the criteria.
Environmental testing laboratories in the past have followed individual state certification programs. Many of these programs are significantly changing due to implementation of new requirements authorized by the National Environmental Laboratory Accreditation Conference (NELAC). NELAC requirements are also based on the standards set by ISO 17025. Environmental laboratories not familiar with ISO 17025 and NELAC requirements will need to make substantial changes to their laboratory quality system. You can reduce both the time and cost in making these changes by utilizing AQL's extensive experience and knowledge in environmental testing methods and quality assurance requirements.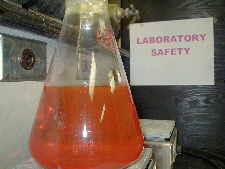 A lab with unsafe practices is a potential disaster waiting to happen. The longer the conditions exist the greater the risks. A laboratory having an outdated Chemical Hygiene Plan or completely lacking the plan place lab workers at a greater risk due to an ineffective safety program and places the business at greater risk of OSHA enforcement actions.
Engineers, consultants and other lab data users often find themselves making critical decisions in a very short time frame. When data is received and project objectives are not met a resolution is needed and often needed immediately. Selecting and evaluating a laboratory for important multi-disciplined projects often must be coordinated with several parties.
AQL can help the laboratory or the laboratory user WHEN assistance is needed. We understand your needs and know that delays will often mean increased expense. We can respond quickly with a proposal / quotation and work with you to meet all of your objectives and usually save you money.
EXPERIENCE
Solid analytical laboratory experience including quality assurance / quality control and laboratory management experience is a necessary prerequisite to ensure we completely meet you objectives and expectations. The professional resume for AQL's Senior Consultant presents over 39 years of analytical laboratory experience with emphasis on environmental lab methods, management, quality, safety and customer service. This extensive expertise provides both the laboratory and the lab user with the knowledge and know-how to plan, evaluate , improve and implement your laboratory activities.
Our Senior Consultant has had direct involvement with many laboratories in different state environmental lab accreditation / certification programs for over 35 years. This exceptional experience can help you with all your laboratory accreditation requirements. Having directed the ISO 17025 and A2LA accreditation activities at several laboratories means your lab can benefit by using this experience to reduce your accreditation developmental and implementation costs. This expertise recently assisted a laboratory start-up obtain initial A2LA accreditation. This lab had NO deficiencies after the on-site assessment. This is unheard of for a new accreditation. Environmental laboratories can tap into this knowledge as they enter into the new and challenging requirements of NELAC. This expertise recently assisted a laboratory obtain initial NELAC accreditation in just 7 months.
The OSHA Laboratory Standard (1910.1450) requires the development and implementation of a Chemical Hygiene Plan (CHP). The key is to establish a program that ensures the effectiveness of the CHP. A single accident can be disastrous in a lab. AQL has over 36 years experience developing, implementing and directing laboratory safety programs. Whether it be the Lab Standard, Methylene Chloride Standard or any general industry standard with the expertise of a Certified Safety Professional (CSP) AQL can assist you with your safety compliance requirements and ensure a safe workplace for your employees.
Take advantage of the AQL experience to improve or evaluate your lab.
AQL will:
Help laboratories improve the overall quality of their organization and thereby improve productivity and profitability,
Provide expert consulting services in the areas of Laboratory Quality Management, Laboratory Safety and Laboratory Operations,
Provide expert consulting services in the areas of Laboratory Quality Management, Laboratory Safety and Laboratory Operations,
Assist laboratories with accreditation activities including A2LA and NELAC,
Help laboratories ensure compliance with the OSHA Laboratory Standard,
Provide users of laboratory data expert help in evaluating lab qualifications capabilities and in determining the quality and usability of reported data.
Contact AQL today to discuss how our value added Laboratory Support Services can help you.
Please sign our guestbook and contact us by E-Mail with any questions about AQL


Copyright © 2013 Air Quality Laboratories, Inc. All rights reserved.
147
(630) 830-4018