Air Quality Laboratories, Inc.

INDUSTRIAL HYGIENE SERVICES
Industrial hygiene air monitoring plays an important role in the evaluation of potential employee exposure to hazardous materials in the workplace. Monitoring can be personal monitoring to measure an employee's exposure to airborne contaminants for comparison to OSHA PELs or other TLVs developed by safety and health experts and organizations. Monitoring can also be area monitoring where exposure is measured not in terms of a particular employee, but rather as ambient air concentration of a substance. Monitoring provides data for a given area at a given period of time. Area monitoring is a useful technique to help evaluate the need to improve contaminant control procedures.
AQL will work with you to develop a sampling strategy that will meet the objectives of the monitoring study. For example, it may be decided to evaluate a "worst case" condition because it was likely that the longest exposure times to the highest expected concentrations would be less than any applicable exposure limits. If tested concentrations support the theory there is now some assurances that other conditions with shorter exposure times will have lower level exposures. The sampling strategy and study objectives will determine: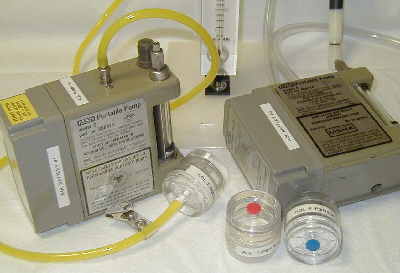 - WHAT TO SAMPLE FOR
- HOW TO SAMPLE
- WHERE TO SAMPLE
- WHOM TO SAMPLE
- WHEN TO SAMPLE
- HOW LONG TO SAMPLE
- HOW MANY SAMPLES TO TAKE
All sampling and project management is performed by a Certified Safety Professional (CSP).
AQL sampling procedures ensure that the proper sampling media is used for the contaminants of concern and the sample is collected using calibrated equipment operated at the method prescribed flow rate and times.
AQL has technical competence in chemical testing and meets the requirements of ISO 17025. Labs used for subcontract services are AIHA or A2LA accredited.
Whatever your sampling and testing needs; particulates, metals, or organics - contact AQL for a detailed evaluation and proposal / quotation.
With AQL you are assured an economical yet regulatory compliant sampling and testing program.

Please sign our guestbook and contact us by E-Mail with any questions about AQL



Copyright © 2021 Air Quality Laboratories, Inc. All rights reserved.

406

(630) 830-4018